The Jubilee Church of Saint John the Baptist in Canale D'Agordo, in the Italian province of Belluno, is a fine example of the skill and artistry that Ecopietra has developed over years of working in stone.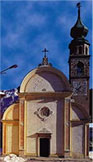 In collaboration with the restoration company R.G.A. Restauri and under the direction of the architect Fabio Nassuato from the Studio of Saccon and Partners, we picked for the ancient parish church a special stone selection for exteriors which sits comfortably side by side with the existing ancient Dolomitic limestone.
Thanks to the choice of materials and to the craftsmanship of the master stonemasons, the restoration received the approval both of the supervisory body for artistic and historic treasures and of the client.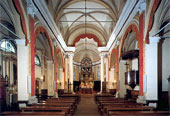 Ecopietra is especially committed to historic and artistic projects in which the materials used require special treatment or need the special attention of skilled craftsmen.